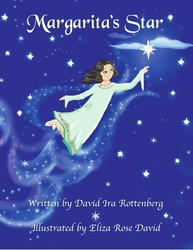 Take a magical journey with a flying princess who plucks stars from the sky, marries a prince, and meets the King of the Sky.
This timeless and inspiring tale encourages being true to your word and true to yourself.
Girls and boys love Margarita's Star and want to read it again and again.
The writing and illustrations are as magical as the story, so snuggle up, turn on your imagination, and dive right in.
$15.95
40 Full Color Pages
Author: David Ira Rottenberg  Illustrator: Eliza Rose David
To purchase from Amazon click here:  AMAZON