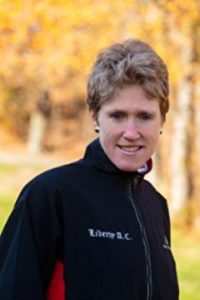 Masters runner and coach Dr. Cathy Utzschneider began running competitively at age 40. She has been ranked fifth in the world in her age group and won seven USA Track and Field age-group titles and a silver medal at the Nike World Masters Games. She also won the 8K race at the North, Central American, and Caribbean World Masters Athletics. For the past 20 years she has trained hundreds of runners ranging from beginners to Olympians and served as Boston Marathon coach to employees of John Hancock Insurance.
As head coach of the Liberty Athletic Club, the first and longest-operating all-women's running club in the country, Cathy has coached members to three world and six American age-group records, three world age-group gold medals, and 46 national masters age-group championships since accepting the position in 2006. She also served as president of the club for three years. In 2010, she and three other Liberty teammates set an American age-group record in the 4- x 1600-meter relay.
Cathy is certified as a level 1 USA Track and Field coach and in levels 1 to 3 in the Burdenko method of water and sports therapy. She is a national site coach for www.women-running-together.com, for which she has written training programs for the 5K through the marathon. In addition to coaching, Cathy writes a column for National Masters News and is an adjunct professor at Boston College. Topics of study include physiology of exercise and aging, goal setting, theories of excellence, and human development. She is author of Move! How Women Can Achieve Athletic Goals at Any Age.